Products & Services
PV Micro-inverter: IGSM-300
Description
The InfluxGreen IGSM-300 Micro-inverter is a grid connected device incorporating advanced  digital control technology to convert DC to AC. It facilitates the easy setup of a distributed solar system.  

Combined with the user friendly web-based monitoring gateway, the integrated system maximizes energy  harvest and simplifies the overall design, installation and the management system.  

Each InfluxGreen micro-inverter works independently with a single PV module,  providing individual Maximum Peak Power Tracking (MPPT) and ensures that the maximum power is  exported to the utility grid regardless of the performance of the other PV modules in the array.  

It is common that the PV arrays often subject to shading, soiling, orientation or panel mismatch and  causes major reduction of energy harvest and affecting return on investment.  

The self'protection functions provide stability and reliability of the PV system.  The micro-inverter used advance potting technology achieving IP65 protection degree.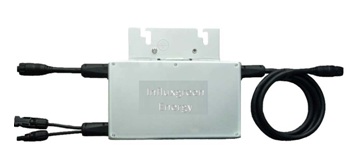 Document download - IGSM-300 Datasheet