Photovoltaic String Inverters
Small Power Series(1-phase output)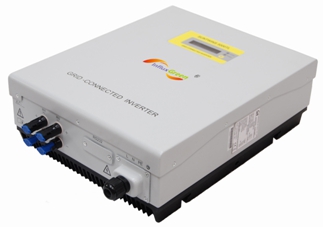 InfluxGreen IGSI-3300DJ, IGSI-4000DJ, IGSI-5000DJ
IGSI "J" series of 3.3kW to 5.0kW family of dual MPPT grid-tied photovoltaic inverters are suitable for use in both residential and light industrial applications.
The rugged IP65 rated outdoor enclosure is designed to withstand the harshest of environment, giving home-owners a peace of mind.

The transformerless design of the inverters offers one of the highest efficiency of more than 97.4%. The high speed maximum power point tracking (MPPT) function provides real time tracking as well as improving overall energy harvesting.

The design utilizes conversion process with minimal losses and maximum reliability. The dual MPPT channels (independently of each other) provide flexibility and allow for real time power tracking independently. The objective is to provide a cost effective, reliable and efficient grid-in feed system with maximum energy harvesting capabilities.

Download Datasheet - IGSI-3300DJ to 5000DJ